IDENTIFICATION AND MONITORING OF SITES
The Devon RIGS Group has been accumulating information on geological sites across Devon for a number of years, and recently through a programme of district surveys. During these surveys, qualified and experienced geologists from the Group visit sites in order to assess and document their geological features. The Group then examines the information in order to identify those sites which are considered to be of significant geological interest, at least in a county context; these are referred to as County Geological Sites. This evaluation uses national guidelines which set out the conditions which qualify a site as a County Geological Site. Generally, some thirty to forty sites are identified in any one local authority district.
UKRIGS guidelines for RIGS selection:

The value of a site for educational purposes in life-long learning

The value of a site for study by both professional and amateur Earth scientists

The historical value of the site in terms of important advances in Earth science knowledge, events or human exploitation

The aesthetic value of a site in the landscape, particularly in relation to promoting public awareness and appreciation of Earth sciences
From an array of potential sites, a selection are chosen to become RIGS, which best show the above qualities or are in a strategic position to better exemplify the surrounding geology, often with safety and public access considerations taken in to account. The overall process is normally in the form of a scoring system in order to better judge which sites should become protected as RIGS. For more information on this go to the GeoConservationUK website or use this link: http://wiki.geoconservationuk.org.uk/images/8/8d/Assessinfo.pdf.



Or, alternatively see the RIGS Handbook for details on site listing, interpretation, and management.
Once a site has been selected, planning policies are put in place to protect these sites, similar to those for the protection of biodiversity. The local authority (in this case Devon County Council) plays a leading role in establishing systems to conserve and enhance local sites. After this, effective monitoring is essential to ensure measures are put in place to conserve the geodiversity.
Click on the link below to download the Devon RIGS monitoring form:
DevonRIGSConditionMonitoringForm.pdf
Overall Devon RIGS and Devon County Council select and monitor sites based on national criteria, before confirming sites selected at a group meeting (every 2 months). Government advisory organisations such as the Joint Nature Conservation Committee (JNCC) and Defra also provide guidance on the subject:
http://www.defra.gov.uk/environment/biodiversity/documents/la-guid-english.pdf
http://www.jncc.gov.uk/page-2947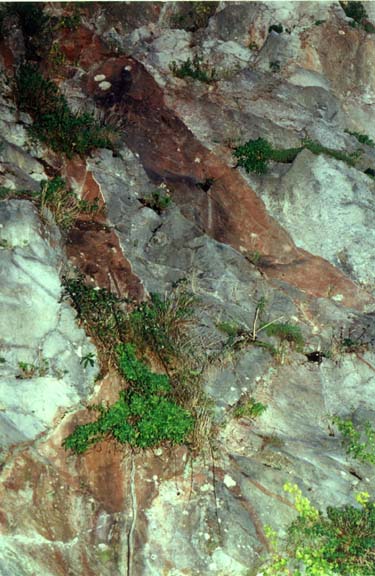 Breakwater Quarry